There are several types of restrictions you can add to a quiz. 
Access your Quizzes tool (Assessments->Quizzes or Course Admin->Quizzes)
Locate the quiz you want to add restrictions to, and click on the dropdown icon next to the title and select Edit.
Click on the Restrictions tab and indicate select to the status dropdown to make your quiz Active or Inactive.

Be sure to click Save and Close.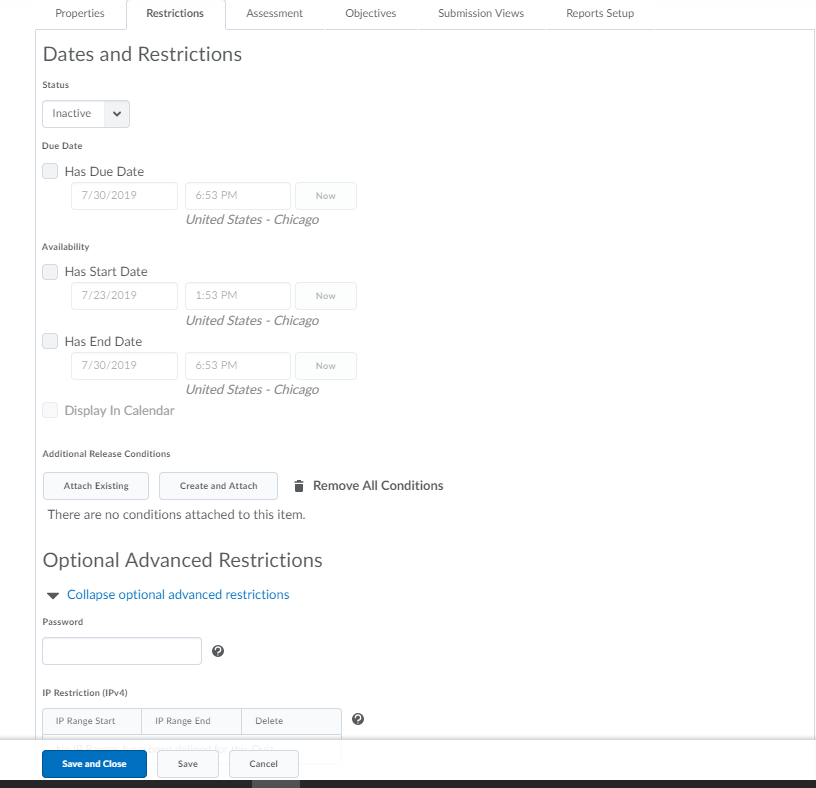 Note
An active quiz is visible to students as a "future quiz" but they are not able to access it until the Start Date (unless a start date has not been set, in which case it is visible at all times). An inactive quiz is not at all visible to students, even if you have a start date set.
Dates: Select a Due Date, Start Date, and End date for your quiz.
The Due Date is the date and time the quiz is due. The due date will automatically appear in the calendar for students.
The Start Date is the date the quiz will become accessible to students.
The End Date is the date the quiz will no longer be accessible to students.
You can check the box "Display in Calendar" if you also want the start and end date to appear in the calendar like the due date does.
Note
Students must begin their quiz before the end time. Note that students can go past the end time if their time limit allows it. However, if they are booted from the quiz for any reason (lose power, browser freezes) they will not be able to re-enter because the time period will have expired.  
If you would like to add release conditions, you would also do that here. Release conditions are rules that will make the quiz available. Such as, "You must have turned in Assignments 1 & 2 for Quiz 1 to appear."
Password: You can require a Password for students to use in order to take the quiz. Professors most often will display this password in the classroom when the quiz is administered, to ensure that students are present.
IP Restriction: At this time, City Colleges of Chicago is unable to provide IP restrictions for quizzes. Our IPs are specific to campus, but not from one classroom/building to the next.
Timing: It is a good idea to have a time limit for the quiz. Open-ended quizzes with no time-limit can affect other parts of Brightspace until the quiz is submitted.

Students can be given a grace period when the time limit is complete. This can be helpful for students who have a slow connection, and may click submit at the last minute.
Special Access: You can allow users Special Access if they require a longer time limit, different dates, or multiple attempts. Click here to learn about Special Access 
Once you have made all your selections on the Restrictions tab,
https://brightspaceresources.ccc.edu/wp-content/uploads/2018/07/logo1-300x86.png
0
0
Maureen Mulcrone
https://brightspaceresources.ccc.edu/wp-content/uploads/2018/07/logo1-300x86.png
Maureen Mulcrone
2018-12-07 22:41:12
2020-11-18 14:12:14
How do I add Quiz Restrictions: Dates, Time limits, Password, and IP address restrictions?