PDF: Create an Assignment in Brightspace from the Assignment Tool
Assignments in Brightspace are typically used for student submissions of papers, presentations, files online for evaluation. However, Brightspace also allows you to create an assignment for in-class activities as well (no submission) when you want to include instructions for students within Brightspace but don't want them to submit anything online.
Note
Students might submit a picture of their their hand written work.
  1. Inside your course, navigate to the Assignment tool.
This is located under the Assessments dropdown menu or in Course Admin.
  2. Click New Assignment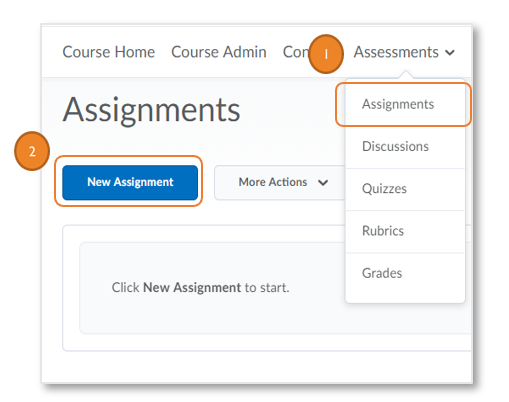 Properties
On the properties tab:
  3. Add a Name and Instructions for the assignment. You can also include an attachment here as well.
  4. Assignment Type: Individual Assignment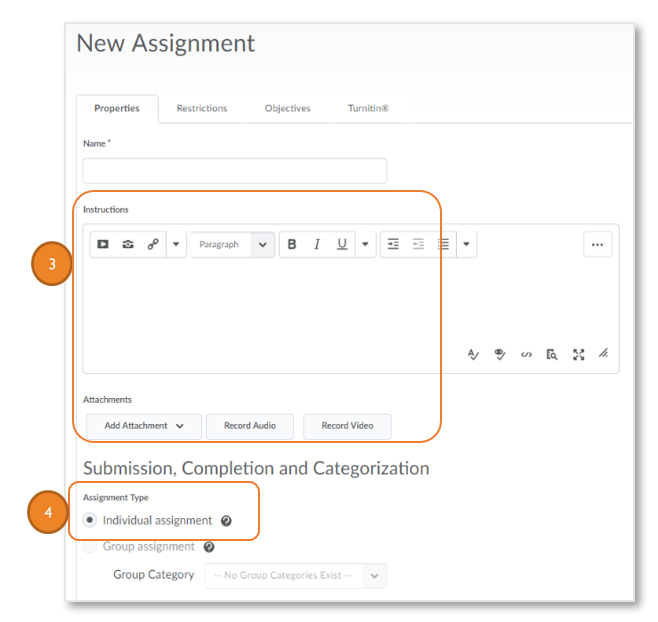 5. Submission Type: File Submission
  6. Files Allowed Per Submission: Unlimited
 Allows students to upload multiple files at once such as multiple Word documents or a Word document and a PowerPoint presentation)
Submissions: All submissions are kept
 Allows students to submit multiple times up until the End Date and all submissions are kept for the instructor to view
Notification Email: OPTIONAL
 Enter your email address If you wanted to be notified by email every time a student submits to this assignment.
Category: Assignment Category
 Allows you to associate a category for your assignments such as "Reading Reflections", "Essays", "Summaries", etc.
IMPORTANT NOTE: these assignment categories are different from your grade categories.
  7. Score Out Of: Enter a point value for the assignment
  8. Grade Item: Click New Grade Item to associate this assignment with an item in the gradebook.
  Make sure you enter the same name and point value that you gave this assignment.
  Click Save when done.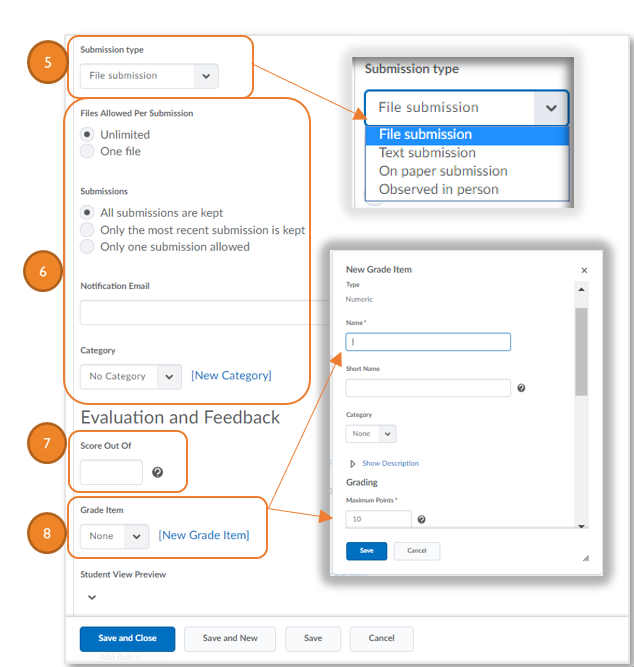 Restrictions
On the restrictions tab:
  9. Hidden from Users: uncheck to make visible.
  10. Due Date, Start Date, End Date
  Add a due date, start date and end date.
  11. Click Save and Close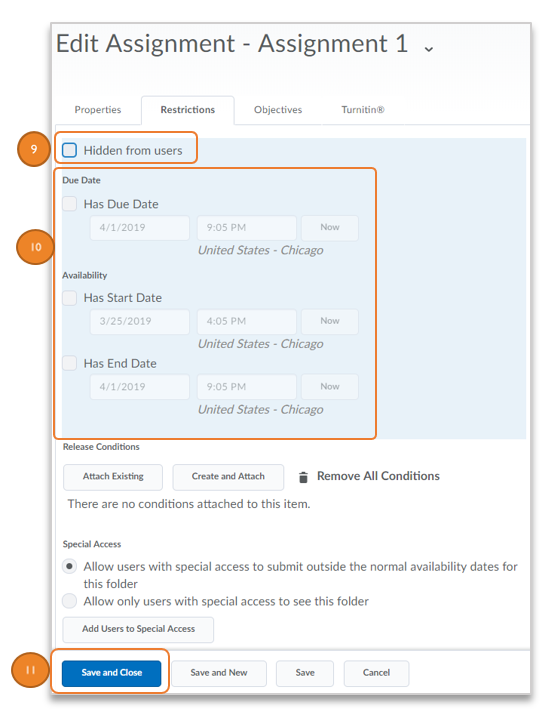 Note
There are 4 tabs: Properties, Restrictions, Objectives, and TurnItIn.
Note
Remember to add the assignment to Content.