You can set quiz time accommodations for students at the course level.
Prior to June 2021, quiz time accommodations could only be set at the quiz level, meaning an instructor would have to edit each quiz individually in order to add "Special Access" settings for students requiring additional time accommodations. 
Now, those accommodations can be set at the course level for a student from the Classlist. 
Use Case: A student has accommodations for additional time (ie. 50%) on quizzes, tests, exams. 
---
Instructions
1. In your course, click on Classlist

2. Click on the dropdown arrow next to the student's name and select Edit Accommodations

3. Enter the amount of additional time the student has accommodations for (ie 1.5 for  50% or time-and-a-half)

4. Click Save
Once accommodations are set, you will see an icon next to the student's name and when you hover your mouse over the icon it will indicate that user has accommodations set.
For every quiz the student takes in that class, they will have the additional time accommodation automatically applied.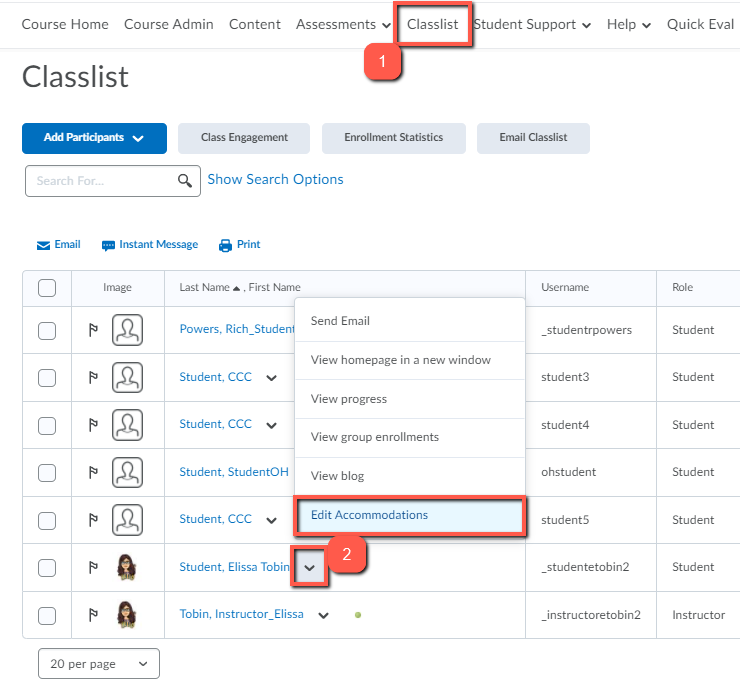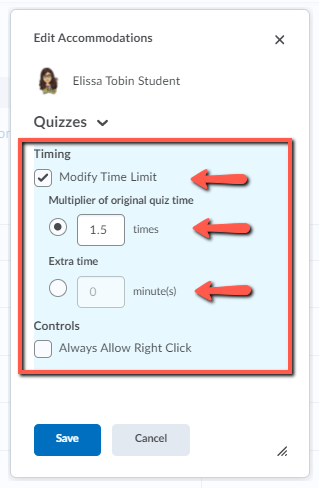 Note
The visual indicator that lets you know an Accommodation has been setup is only visible from the Classlist or the View User Progress page. It will not show up on the Quizzes page for instructors.
https://brightspaceresources.ccc.edu/wp-content/uploads/2018/07/logo1-300x86.png
0
0
Elissa Tobin
https://brightspaceresources.ccc.edu/wp-content/uploads/2018/07/logo1-300x86.png
Elissa Tobin
2021-06-04 10:06:51
2021-08-10 17:15:55
How to set Quiz Accommodations at the course level