Course Reports Available in Brightspace
Brightspace has a number of reports to help you keep on top of students who may be slipping through the cracks. The following tools can help you identify students who may be falling behind.
Course Overview – Class Engagement
The Class Engagement report shows you the student's current grade, the last date they accessed your course, and their participation in the Discussion tool. You can filter by students who have not accessed the course in the past 7 days or filter by grade distribution and email those students right from here.
To View: Course Home > Class Engagement

---
Content – Table of Contents Report
The Table of Contents report shows you two views: 'Overall Content viewed' and 'Content viewed by each student'. You can see how many students viewed each item of content and for how long. If you switch to the User tab, you can see how many items of content each student viewed and you can drill down into the individual details for each student.
To view: Content > Table of Contents > Related Tools > View Reports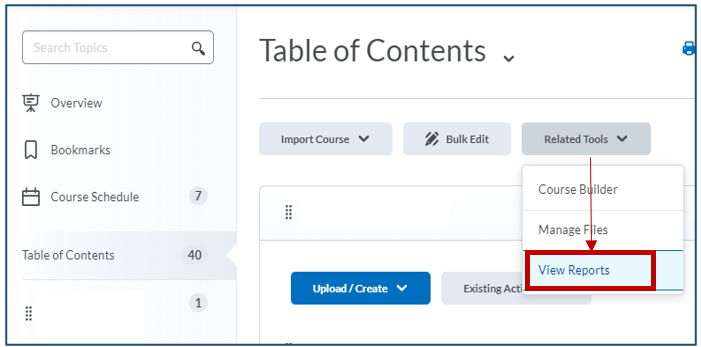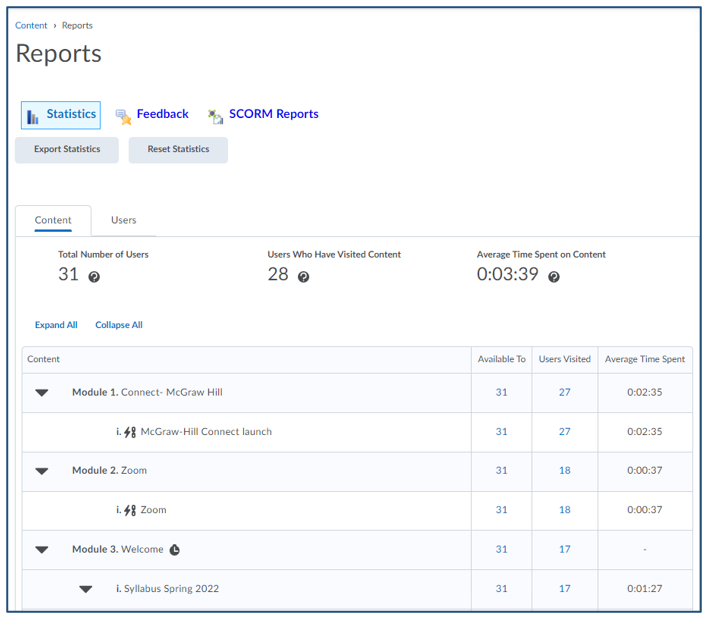 ---
Class Progress and User Progress Reports
The Class Progress report shows you up to four indicators of progress: Choose from:
Content Visited, Checklists Completed, Assignment Performance, Discussion Participation, Quiz Performance, Grade Summary, Survey Completion, Objectives Completed, Login History*, or System Access*.  You can then drill into each individual student to view the Student's Progress through the entire course.
*Note: 'Logins' and 'System Access' both mean logins to Brightspace, not visits to your course
To view: Course Admin > Class Progress > Settings > Choose / Replace Indicators