How to Create a Rubric 
1.  Go to Rubrics tool (Course Admin > Rubrics | or Assessments > Rubrics).
2.  On the Rubrics page, click New Rubric.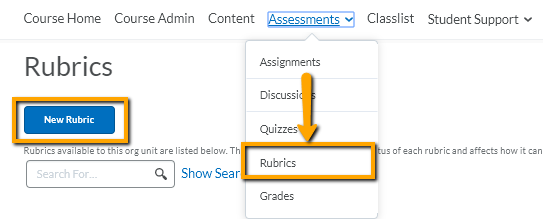 3.  Edit Rubric Details
  Name
  Type: Analytic | Holistic
  Scoring: No Score | Points | Custom Points
  Status: Published |Archived | Draft
  Criterion: Click in the box to rename the criteria
  Level: Click in the box to rename your levels
  Points (if used)
  Description fields: Click in the box to type your descriptions for each criterion and level
  + Add Criterion: to add additional criteria (optional)
  Add Criteria Group: to add a new group of criteria with different levels and/or points (optional)
  Overall Score: change the level names to match and adjust the point calculations for the overall levels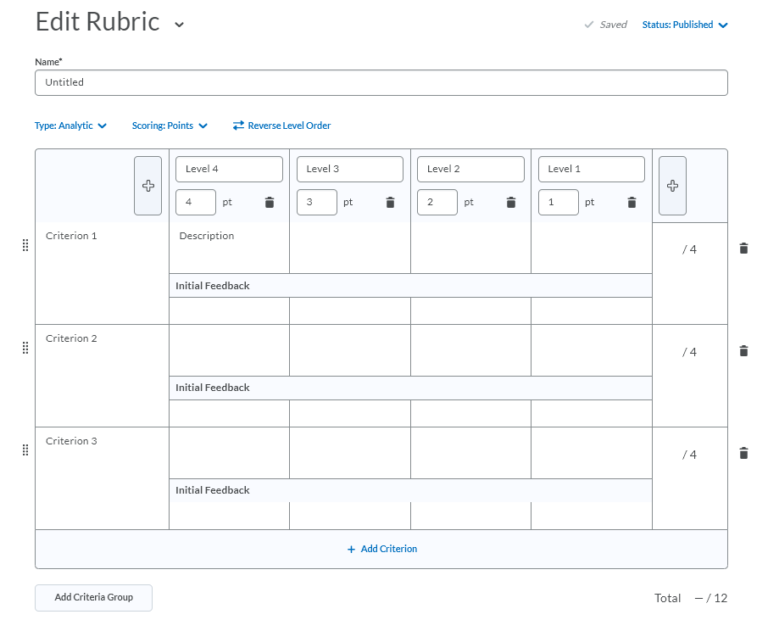 Additional Options

  Rubric Visibility: visible to students | hidden from students | hidden until feedback is published
  Score Visibility: Option to hide scores from students
  Description: Option to add a private descriptions that students do not see
  Advanced Availability: recommendation to keep these options checked.
The rubric will save automatically (view the "Saved" checkmark at the top).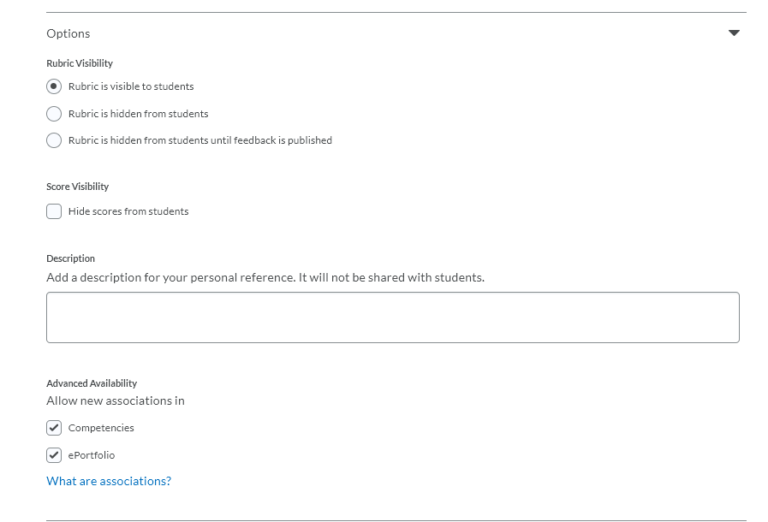 Brightspace assists you in creating two types of rubrics. Below is information to help you decide.
Analytic Rubrics 
Two-dimensional rubrics with levels of achievement as columns and assessment criteria as rows. 
Assess learners' achievements based on multiple criteria using a single rubric.
Assign different weights (value) to different criteria and include an overall achievement by totaling the criteria.
Analytic rubrics may use points, custom points, or text-only (letter grades) scoring methods.
Points and custom points analytic rubrics may use both text and points to assess performance; with custom points, each criterion may be worth a different number of points.
For both points and custom points, an overall score is provided based on the total number of points achieved.  The overall score determines whether the activity is achieved.
Holistic Rubrics
Single criterion rubrics (one-dimensional) used to assess learners' overall achievement on an activity or item based on predefined achievement levels.
Holistic rubrics may use a percentages or text-only scoring method.