Brightspace ePortfolio is a personal portfolio tool for storing, organizing, reflecting on, and sharing items that represent your learning. You may include items such as documents, graphics, audio files, videos, presentations, and course work to demonstrate your improvement or mastery in certain areas.
You choose what items you want to include in your portfolio, how they are organized, and who you want to share them with. When you share items with your peers, mentors, or potential employers, you choose the permission to view items, edit items, see or add comments, and see or add assessments to receive feedback.
Key Terms

Artifacts are items: such as Word documents, PDFs or pictures.

Collections are Folders. You can group individual Artifacts or Items into Collections.

Presentations are web projects showcasing your items and collections.
To access your e-portofolio go to the BrightSpace homepage and click on the drop down arrow next to "My BrightSpace"
Select ePortofolio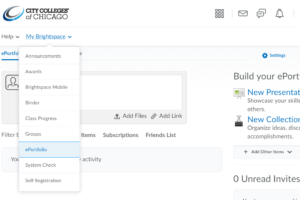 The Dashboard is the landing page for ePortofolio
On the Dashboard page, you can add new content to your Brightspace ePortfolio, review recent activity on your items and items shared with you, and check invites from your peers.

Newsfeed

The newsfeed consolidates recent activities and those shared with you