If there is 

next to a grade item,  your students cannot see the item.  If you would like the grade visible, go to that item to Release the grade.
Go to the Grades tool
Under the Enter Grades tab, go to Final Calculated Grade
Click on the dropdown arrow for Final Calculated Grade and select Grade All
Click on the student's name (names) on the left side you want to release grades to ,and then click the check mark by Released on the far right side.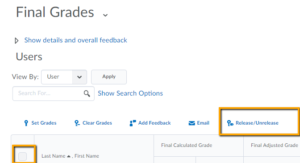 More articles about Grades: