The Insert Stuff link allows you to add files, images, videos, links, and more. It is available anywhere in the course where the HTML Editor(text entry box) is available. The HTML Editor is available in content items, descriptions, discussions, grade feedback, assignments, tests.
1) Inside an HTML Editor, click the Insert Stuff icon.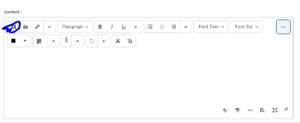 with Insert Stuff you are able to add files, links, YouTubes, Video Notes, and more.