Instructors
Video Note easily embeds video from your webcam or phone wherever there is the HTML editor. 
Engage learners through short videos 
in
Announcements
Content
Discussions
Provide meaningful video feedback 
in
Quizzes
Assignments
Discussions
How do I

add Video Note through the HTML Editor

 
Go to the HTML Editor

Click

Insert Stuff

when the text editor window opens (see Figure 1, red circle)

                                               

 
                                        Figure 1. Insert Stuff button with dropdown selections  
Select

Video Note

(see Figure 1 in the dropdown selections).

Click

Record Webcam Video

and then

New Recording. 

 

Click

Stop Recording

when you are finished. 

Click Next.

Type in a

Title

and

Description

Click

Insert

to insert the video in the topic.

Click

Save

 
 You can use Video Note anywhere there is an html editor—announcements, feedback, etc.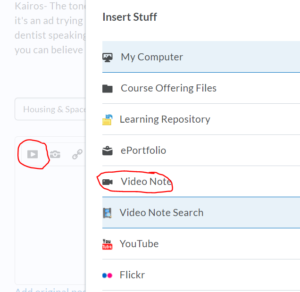 Students
are able to attach Video Notes through the HTML Editor
When adding a new thread to a discussion, Insert Stuff through the HTML Editor.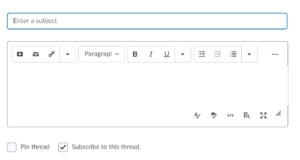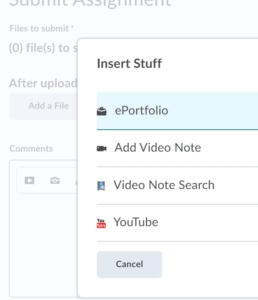 In Assignment, Insert Stuff through the HTML Editor.