Welcome to Brightspace Summer 2020!

As you prepare for the start of the term, keep in mind that how you use Brightspace is up to you. You may choose to include announcements, add content like videos or files, tests/ quizzes, virtual discussions, assignment submissions, grades and more!
Highlights In this Newsletter:
D2L | Fusion 2020 Conference is going virtual
Zoom replaces Collaborate Ultra
My Courses Widget gets a new look
Summer Training Schedule
For more help, look below or visit http://brightspaceresources.ccc.edu    
Highlights
D2L | Fusion 2020 Conference is going virtual
D2L's annual user conference, Fusion, will be held virtually this year, and is free of charge. This is a great opportunity for faculty and staff who would otherwise have not been able to attend. You can register at https://www.d2l.com/events/fusion/
Zoom replaces Collaborate Ultra
CCC's agreement with Blackboard for the use of Collaborate Ultra ends on June 30th, 2020. Instructors should download any recordings they wish to save before this time, as we will not have access to the platform after June 30th. Zoom will continue to be available to all CCC students, faculty, and staff for the foreseeable future.
My Courses Widget is getting a new look
The My Courses widget has a new look starting summer 2020. Courses will be organized by term and will display alerts for assignments, discussions and quizzes. This will make it easier for students and faculty to locate their courses easily and keep their homepage clean. You can still pin courses, and you can find all your courses under the "All" tab or the course selector icon in the minibar.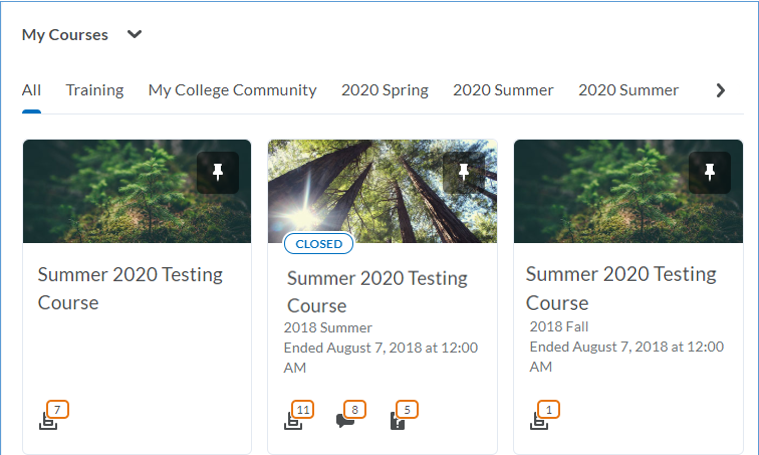 Summer Training Calendar
The instructional technology team is offering beginner through advanced Brightspace and Zoom training starting June 1st. For Brightspace, we have trainings covering each of our four series: Essentials, Engagement, Assessment, and Learner Management. Check out our training catalog for detailed course descriptions and sign up at our training calendar: https://brightspaceresources.ccc.edu/trainingevents/.
This Week's Offerings:
MONDAY 6/1

9:00-1:00pm Drop-in Brightspace or Zoom Help
1:00-2:00pm Zoom for Teaching-Basics (Essentials Series)
4:00-5:00pm Course Copy, Cleanup and Management for the new Term (Essentials Series)
6:00-7:00pm Drop-in Help for any questions related to Brightspace or Zoom

TUESDAY 6/2

9:00-1:00pm Drop-in Brightspace or Zoom Help
1:00-2:00pm Advanced Zoom for Teaching (Engagement Series)
2:00-3:00pm Drop-in Brightspace or Zoom Help
4:00-5:00pm Keep Teaching with Brightspace (Essentials Series)
6:00-7:00pm Drop-in Brightspace or Zoom Help

WEDNESDAY 6/3

1:00-5:00pm Drop-in Brightspace or Zoom Help
5:00-6:00pm Brightspace Assignments (Assessment Series)
6:00-7:00pm Drop-in Brightspace or Zoom Help
7:00-8:00pm Brightspace Quizzes (Assessment Series)

THURSDAY 6/4

1:00-5:00pm Drop-in Brightspace or Zoom Help
4:00-5:00pm Brightspace Grades (Assessment Series)
5:00-6:00pm Drop-in Brightspace or Zoom Help
7:00-8:00pm Brightspace Engagement Tools (Engagement Series)

FRIDAY 6/5

10:00-11:00am Designing Elements in Brightspace (Essentials Series)
12:00-1:00pm Course Copy, Cleanup and Management for the new Term (Essentials Series)

SATURDAY 6/6

9:00-10:00am Drop-in Brightspace or Zoom Help
10:00-11:00am Keep Teaching with Brightspace (Essentials Series)
View all the trainings and register here
Beginning of the Semester FAQs
Below are the most common beginning of the semester questions and the answers from our knowledgebase:
For more help, visit http://brightspaceresources.ccc.edu
Help and Resources