Tech 4 U: Making Technology Work for You
Welcome to Brightspace Fall 2023
Highlights In this Newsletter:
·         Beginning of Semester FAQs for Brightspace and Zoom
·         New in Brightspace – New experiences and updates
·         Zoom – Reminders – Download recordings before they're deleted
·         Virtual Drop-in Help for Faculty with Brightspace and Zoom 
---
Beginning of Semester FAQs for Brightspace and Zoom
For more help, visit http://brightspaceresources.ccc.edu
---
Important Brightspace Updates


'Updated' Quiz Creation Experience (Available Now)
The new Quiz Creation Experience is now the only one available. Many of you have already been using the new Quiz creation experience throughout the fall and spring semester. But now, it is the only option available. The new Quiz creation experience looks and feels similar to the Assignment creation experience. All instructions, questions, properties, settings, and evaluation options are on one screen instead of buried within multiple tabs.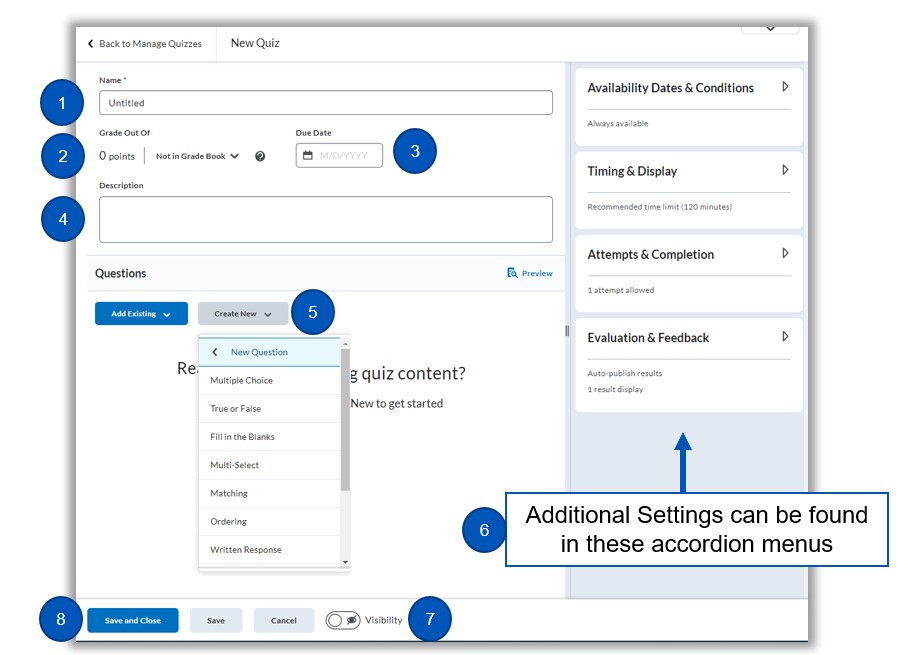 For more information see New Quiz Creation Experience
Watch this two-minute video from D2L
'New' Discussion Creation Experience (Available Now)
The new discussion creation experience brings the consistency changes from Assignments and Quizzes to Discussions, making it familiar and easy to learn. This first release is at full parity with classic discussions and brings refreshed workflows and improvements to restricting group topics and threads, associating topics to forums, and wording changes to a few settings that you may be familiar with.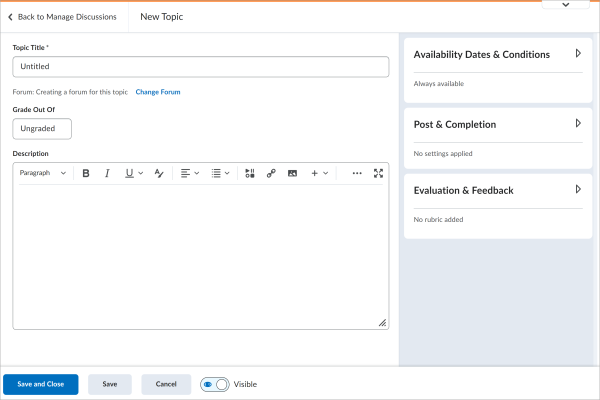 For more information see New Discussion Creation Experience
Assignments – New availability dates
The Assignment date options now match the options for Discussions. When setting date restrictions, instructors can choose from the following options for Start and End dates.
Access restricted
Submission restricted
Hidden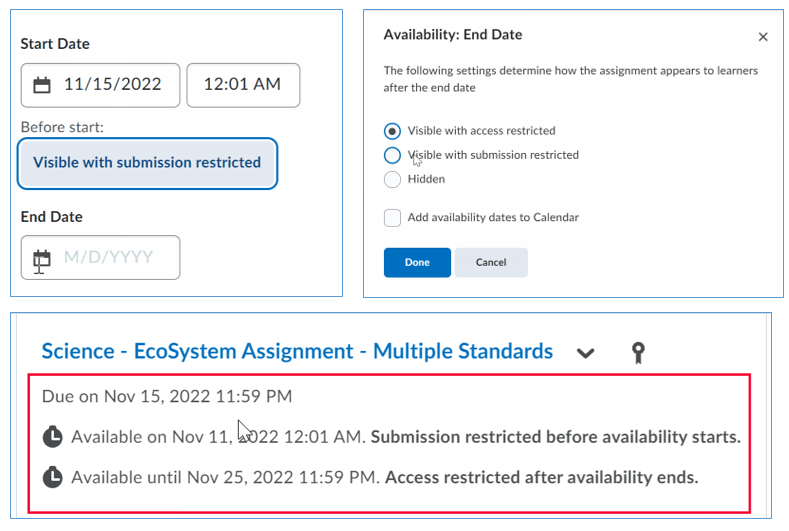 For more information see New Assignment Date Feature
---
Brightspace Release Notes
Every month D2L publishes notes on new features released in Brightspace. Keep informed and see below!
---
Explore fun & effective ways to customize your course in Brightspace
---
Zoom – Reminders


Planned Deletion of older Zoom Cloud Recordings
As a reminder, Zoom cloud recordings are deleted after each semester. This is necessary to ensure that CCC remains within its contractually agreed upon disk quota on the Zoom platform.
How to preserve your Zoom cloud recordings  
Tips for Zoom
What Happens if Zoom is Down?
The Zoom platform is extremely reliable (with published uptime of 100% for the last year), but in the unlikely event of an outage or other issue, you do have a backup platform: Microsoft Teams.
Please take a moment to review these two articles on accessing/using Teams in advance so that you are prepared should you need an alternative.
Other Tools You Can Use
Hypothes.is (social annotation tool) Updates
Hypothesis is an easy to use pedagogical tool that enabled students and teachers to have conversations in the margins of digital texts. It can be integrated directly within Brightspace. Here is a quick start guide with helpful hints on using Hypothesis successfully!
YouTube Video Annotations (New!): You can now annotate over YouTube videos with Hypothes.is. Learn more.
Side by Side Mode (New!): Ensures an uninterrupted content viewing experience and seamless annotation. Learn More.
Training and Workshops: Learn more about making reading active, visible, and social using Hypothesis, by joining an upcoming workshop. Learn more and RSVP.
Upcoming Training and Drop-In Help
Access the complete calendar list of Drop-ins* and Trainings
Zoom Link for drop-ins: https://cccedu.zoom.us/j/91263470950
Drop-in Help for Brightspace or Zoom (starting Aug 21)
§  Mondays: 8:00-9:00am (Mariana)
§  Tuesdays: 3:00-4:00pm (Elissa)
§  Wednesdays: 10:00-11:00am (Tamara)
§  Thursdays: 11:00am-12:00pm (Syed)


Adult Education Drop-in Help – Zoom Links and Times Vary – See calendar
*check the calendar for the most up to date information as some dates may get canceled
Request an Individual Appointment
Help and Resources
https://brightspaceresources.ccc.edu/wp-content/uploads/2020/06/white-space.png
12
38
Elissa Tobin
https://brightspaceresources.ccc.edu/wp-content/uploads/2023/07/CCC_System_Logo_2C_RGB-300x48.png
Elissa Tobin
2023-08-15 15:38:26
2023-08-15 15:55:01
Fall 2023 – Start of Semester