Tech 4 U: Making Technology Work for You
Keeping You Up-to-Date
Below are highlights of new features and settings in a variety of tools that you can take advantage of. The sections in this newsletter are meant to support you as you prepare for the midterm period.
Highlights In this Newsletter:
Zoom Usage Reports
Brightspace Highlights – Course reporting tools, Quiz creation resources, and Grade settings help you get through midterm grading
Virtual Drop-in Help for Faculty with Brightspace and Zoom
For more help, look below or visit http://brightspaceresources.ccc.edu
---
Zoom Highlights
Zoom – Usage reports
Need to know which students attended your zoom sessions and for how long?

Select a Date Range and click Search
Click on the # in the Participant column to view a list of attendees

For more help, visit http://brightspaceresources.ccc.edu and search "zoom"
---
Brightspace Highlights
New Discussion Grading Experience
You can opt-into/out of a new discussion grading experience. This feature provides an opt-in or out option for users to familiarize themselves with the new experience. It is consistent to the assignment grading experience in look and feel. When enabled and grading a Discussion topic from the Grades tool or from the Discussion tool your experience will look like the example below. You can switch back at any time using the arrow drop-down bar in the upper right corner to revert to the old experience. This will be the only grading experience available after December 2021.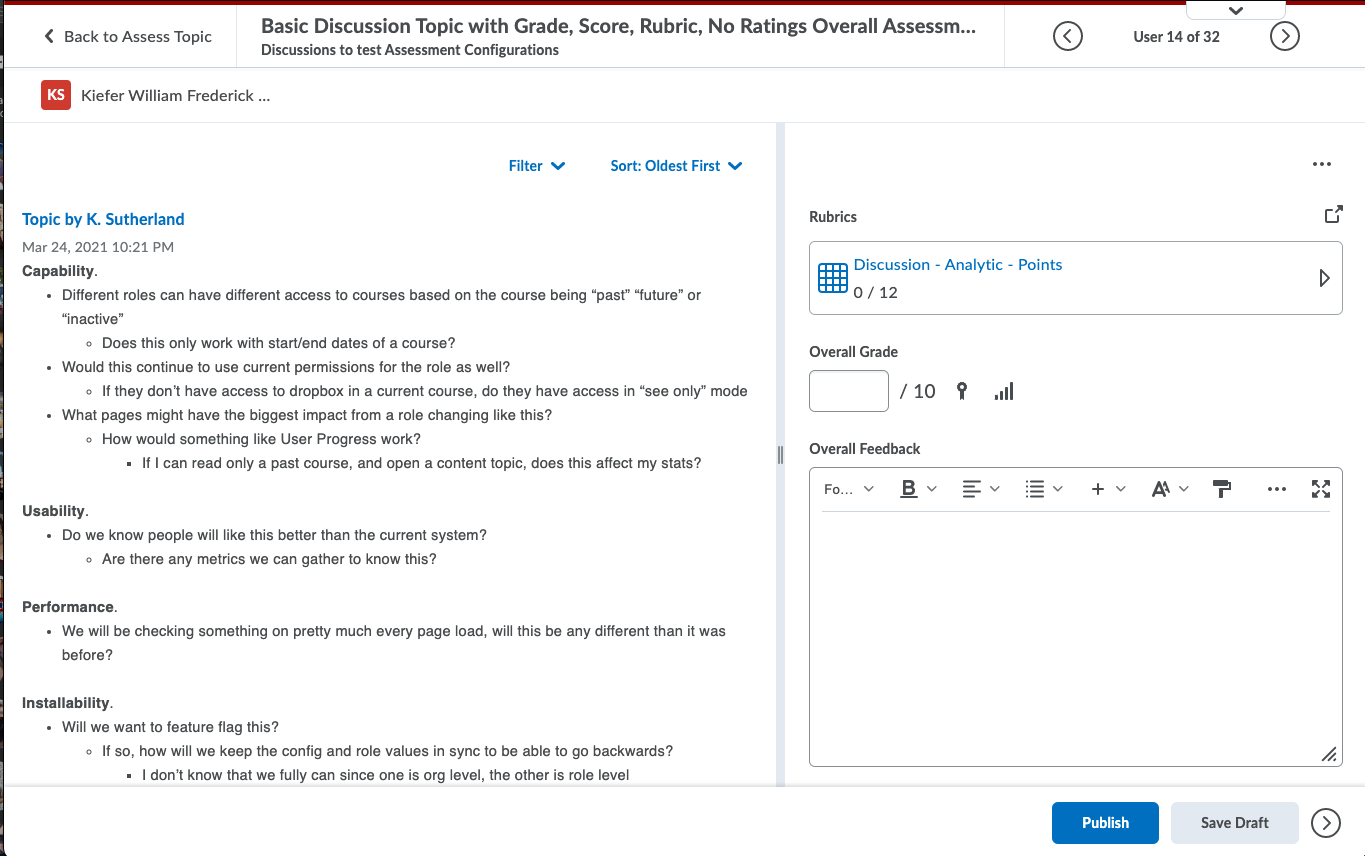 ---
Midterm Knowledgebase Articles
Alternate Ways to Access Class Rosters and Email Students if Brightspace Goes Down
For more help, visit the knowledge base.
---
Upcoming Training and Drop-in Help for Faculty
Access the most up to date list of drop-ins here
Zoom Link for all drop-ins: https://cccedu.zoom.us/j/91263470950  
Drop-in Help for Brightspace or Zoom (thru December)
Request an Individual Appointment
Brightspace Assessment Knowledge Base Resources
---
What's New In Brightspace
Every month D2L publishes notes on new features released in Brightspace. Keep informed and see below!
---
Help and Resources